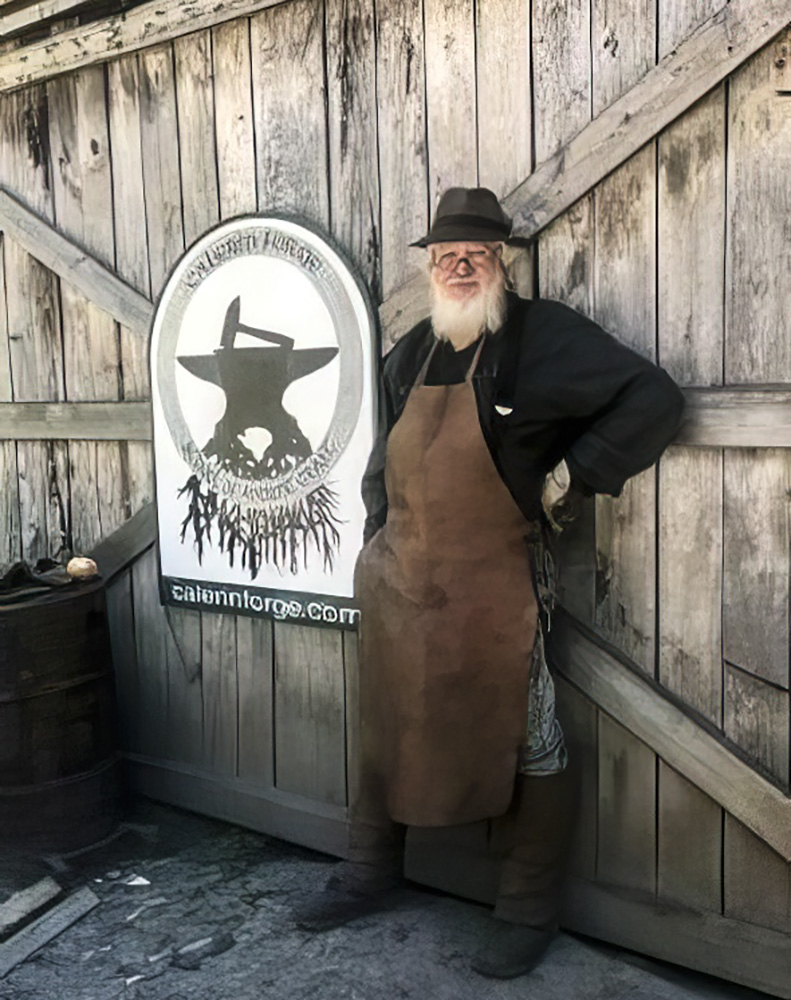 David Burress   Owner/Blacksmith at Calerin Forge
Calerin Forge Custom Iron and School of Ancient Craft is a full service blacksmith shop and grassroots blacksmithing school located in the Southern Appalachian Mountains of Western North Carolina.  
Family owned and operated, we are the third and fourth generation of metalworkers, our heritage dating back to David's grandfather Charlie Reece who was the blacksmith, cabinet-maker and coffin maker for the Pinelog Community near Murphy, NC in the early 20th century.
Sharing Their Knowledge of This Ancient Craft
We inherited some of our blacksmithing tools from the Carr Lumber Company which logged what is now part of the Pisgah National Forest in the early 1900's.
Because of this inheritance, we strive every day to tell our story through works produced using traditional forging methods that can be traced back through the ages as well as ensuring that The Craft lives on through small, informal eight week classes and weekend intensives.
 Exquisite One-of-a-Kind

Custom Made Pieces


At Calerin Forge, we endeavor to execute our work with the skill, care, and attention to detail that our forbearers brought to the craft. Each piece we produce is exclusively hand-made and as individual as the human fingerprint.

We do not cut corners by using mass-produced components, because it matters to us that every item we create has the integrity of being a one-of-a-kind product.

We are committed to producing some of the finest custom blades, tools, architectural pieces, sculpture and armor available anywhere.
We are lifelong students of history, and when we reproduce a piece of armor or weaponry, we research to ensure each creation is as close to the original as possible. Part of the joy of our work is in the discovery of how things were made in the past, as well as in the challenge of mastering techniques necessary to reproduce them.

True to our mission statement, we are passionate about preserving our cultural heritage through traditionally handcrafted, functional works of heirloom quality art. 
Check our class schedule for upcoming blacksmithing workshops and seminars.